Czech Prime Minister opens embassy office in Jerusalem during COVID-related trip to Israel with Hungarian counterpart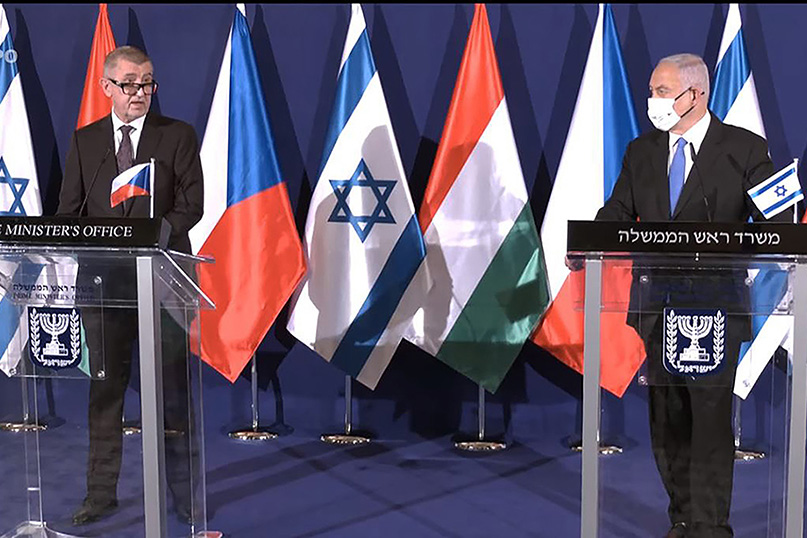 By Cnaan Liphshiz
(JTA) – The Czech Republic has opened a branch of its embassy in Jerusalem, becoming the second EU member state to take such a step after Hungary.
Czech Prime Minister Andrej Babis attended a ceremony Thursday to mark the opening of the diplomatic mission in the western capital of Israel. Hungarian Prime Minister Viktor Orban was also visiting Israel on Thursday. At a joint press conference with Prime Minister Benjamin Netanyahu, visitors said they had come to learn from Israel's experience in the fight against COVID-19.
Netanyahu thanked the two visitors for the opening of the missions in Jerusalem and for the way "they help us on the international stage like real friends do." The two leaders have come to "see how we can cooperate on COVID," he added.
Israel, where most residents have received at least one shot of the vaccine, has "become the example on how to fight COVID," Babis said, adding: "It is reassuring to know that the Czech Republic has a friend she can count on ". Orban called Israel a "world champion in the fight against COVID."
The Czech Foreign Ministry told reporters that the new mission is not a recognition of Jerusalem as the capital of Israel, which the United States recognized in 2017, but that the European Union and many other countries and international bodies did not wait for Israeli peace talks with the Palestinians.
But observers such as Petr Kratochvil, a political science expert at the Institute for International Relations in Prague, argued that the opening of the mission cannot be seen in isolation from the debate over the status of Jerusalem.
"Rudolf Jindrak from [Czech] The presidential office described this as a highly significant symbolic step and the president's spokesman Jiri Ovcacek even linked it directly to the efforts to move the embassy there, "Kratochvil told Radio Prague International.
The new office will focus on cultural issues and will be staffed with a diplomat and a consular service employee.
Main photo: Czech Prime Minister Andrej Babis, left, speaks at a press conference with Israeli Prime Minister Benjamin Netanyahu in Jerusalem, March 11, 2021. Their Hungarian counterpart, Viktor Orban, also appeared at the press conference but is not seen here. (GPO)